Due to construction along Avenue of the Stars and Constellation Blvd, Route 792/797 will not be able to access some of its stops within Century City. Beginning June 26th, the route will operate along Olympic Blvd. as shown in the map below. Stops marked with "X's" will no longer be served. An additional stop will be made on Century Park West and Solar Way (marked in orange), please use this as the new timepoint in the schedule. Times have not changed.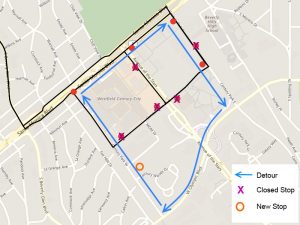 ---
Parada de Autobús Cerrado
Debido a la construcción en Ave of the Stars  y Constellation Blvd, la ruta 792/797 no podrá tener acceso a algunas de sus paradas dentro de Century City. A partir del 26 de junio, la ruta operará  en Olympic Blvd. Como se muestra en el mapa de encima. Las paradas marcadas con "X" estará cerrado. Se hará una parada adicional en Century Park West, entre y Solar Way (marcado en naranja), por favor utilice esto como el nuevo tiempo en el horario. Los tiempos no han cambiado.
For more information, please call (661) 294-1287.
Para más información, por favor llame (661) 294-1287.