Santa Clarita Transit (SCT) considers the health and safety of our employees and customers to be of utmost importance. In light of recent updates regarding the Coronavirus Disease 2019 (COVID-19) SCT continues to monitor the Los Angeles County Department of Public Health as well as the Centers for Disease Control and Prevention (CDC) for up-to-date preventative best practices for our operators and maintenance staff.
Please note that while SCT always upholds regular cleaning practices of our vehicles and facilities, we are currently implementing enhanced cleaning procedures. This includes additional cleaning of surfaces that experience elevated levels of physical contact such as doors, handrails, armrests, pull chords, fareboxes, etc. Maintenance staff uses hospital-grade disinfectant on all of the aforementioned surfaces daily across our entire fleet.
In following with CDC recommendations, we urge our passengers to:
Avoid close contact with people who are sick
Avoid touching your eyes, nose and mouth
Stay at home if you are ill
Cover your cough or sneeze with a tissue
Clean and disinfect regularly touched objects and surfaces using a regular household cleaning spray or wipes
Wash your hands often with soap and water for at least 20 seconds
If soap and water are not readily available, use an alcohol-based hand sanitizer with at least 60 percent alcohol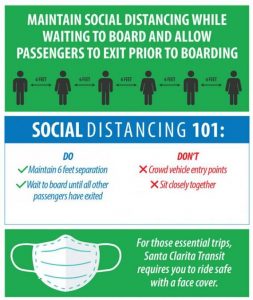 Please visit SantaClaritaEmergency.com for more information.
Frequently Asked Questions (FAQs)
Santa Clarita Transit is committed to providing transportation service for essential trips. This includes getting personal care attendants to their patient's homes, grocery store employees to work, etc.
Yes. Santa Clarita Transit has reduced local and commuter service, suspended the GO! Santa Clarita service and eliminated supplemental school trippers. Details can be found here.
Yes, a Federal Mask Mandate issued on January 29, 2021 requires that masks be worn on all forms of public transportation. This mandate supersedes any local or state mask policies as they relate to public transit.
Santa Clarita Transit recently completed the installation of rear door TAP validators. As of January 1, 2021 operators will begin reminding patrons to ensure they have proper fare as they board. Further details can be found here.
Yes, we have updated our GPS feed. We encourage riders to download the Moovit app for iOS or Android for the most current trip information.
We encourage all passengers to follow the same social distancing rules outlined by the Los Angeles Public Health Department. If you have reason to believe you may have been exposed, please stay home.
The City does not directly employ drivers. As such HIPAA privacy regulations preclude staff from knowing much more beyond the fact that a positive test came back. However, the City is dedicated to working with our contract operator to protect our drivers and residents. While maintenance crews are working tirelessly to clean and disinfect all buses and facilities on a regular basis using hospital grade solutions City staff has been sourcing additional cleaning materials and personal protective equipment for operators in the field.