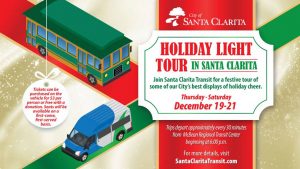 Join Santa Clarita Transit this holiday season for a festive tour of some of our city's best displays of holiday décor. This December, Santa Clarita Transit will host a Holiday Light Tour on board our classic wood trolley and local Dial-A-Ride vehicles.
The 45 minute tour will allow passengers to view local displays of cheer, while leaving the driving to us. Tours will depart from McBean Regional Transit Center Thursday December 19th through Saturday December 21st beginning at 6:00 p.m.  with the last trip departing at 9:00 p.m. Tickets can be purchased upon boarding the trolley for $3.00 per person, or free with the donation of canned food. Seats will be available on a first-come first-served basis. Please note, for safety purposes we do not visit Wakefield Court.
View a list of suggested donations.
---
Acompañe a Santa Clarita Transit esta temporada de fiestas para un viaje festivo de algunas de las mejores pantallas de nuestra ciudad de decoraciones navideñas. Este mes de diciembre, Santa Clarita Transit organizara  una excursión de luces festivas a borde de nuestro trolley (tranvía de madera clásico).
La excursión de 45 minutos, permitirá que los pasajeros puedan experimentar las demostraciones locales de luces y dejando el transporte a nosotros. La excursión va departir desde McBean Regional Transit Center las noches de jueves diciembre 19 a sábado diciembre 21, comenzando at las 6:00 p.m. con el último viaje departiendo a las 9:00 p.m. Los boletos pueden ser comprados al subir del trolley (tranvía de madera clásica) por $3.00 cada persona, o gratis con una donación de comida enlatadas. Asientos será en orden de llegada.