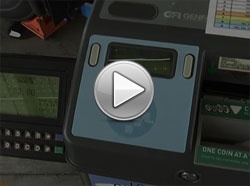 Santa Clarita Transit accepts cash on all buses as well as passes or stored value on the Transit Access Pass (TAP) card.  TAP is a convenient way to pay your fare. It's a durable plastic card with an electronic chip inside that you can use again and again. In order for the card to be valid on Santa Clarita Transit, you must load it with stored value or a bus pass of your choice. Your TAP card will automatically remember your account balance and can be reloaded by visiting TAP Pass Sale Outlets or by going to the Transit Access Pass (TAP) website.  Customers with iPhones may also pay using the new TAP app.
Purchase and electronically load Santa Clarita Transit passes or stored value at various Pass Sale Outlets around the Santa Clarita Valley. Hours of operation vary for each location. Please call and confirm before visiting.
Due to COVID-19 restrictions, some of our Pass Sale Outlet vendors are temporarily closed.  Please click here or see below for a current list of available Pass Sale Outlets:
City of Santa Clarita Transit
28250 Constellation Road
661-295-6328
Mon-Fri 8:00am-5:00pm
Accepts cash or check
City of Santa Clarita City Hall
23920 Valencia Boulevard, Suite 140
661-286-4099
Mon-Thu 7:30am-5:30pm, Fri 8:00am-5:00pm
Accepts cash, check and charge
City of Santa Clarita Aquatics Center
20850 Centre Pointe Parkway
661-250-3700
Please call for hours of operation
Accepts cash or check
Mail America
18565 Soledad Canyon Road
661-299-2295
Mon-Fri 10:00am-5:00pm, Sat 10:00am-3:00pm
Accepts cash only
Bonanza Liquor Market
24301 Main Street
661-287-0175
Please call for hours of operation
Accepts cash only
Saugus Drugs and Hallmark
27641 Bouquet Canyon Road
661-296-2980
Mon-Fri 8:30am-8:00pm, Sat 9:00am-7:00pm, Sun 10:00am-6:00pm
Accepts cash or check
Vons
24160 Lyons Avenue
661-259-9214
6:00am-2:30pm Daily
Sells bus passes only.  No stored value.
For more information about TAP, visit taptogo.net
Santa Clarita Transit assumes no responsibility for lost, stolen, or damaged passes. NO refunds will be given. Santa Clarita Transit does not offer a reduced fare for students under TAP's Reduced Fare program.
Mobile Ticketing with Token Transit App

Passengers now have the option of purchasing Santa Clarita single ride tickets and period passes using the Token Transit mobile ticketing app. Once purchased, tickets and passes are loaded onto the app for a specified time period. During this time, riders may simply open the app's validation screen to show to the bus driver for proof of purchase. All Santa Clarita local and commuter passes can be purchased using Token Transit, valid on our service only (note, Token Transit cannot be used for inter-agency transfers).
Token Transit also allows users to send passes. For instance, should a child need to unexpectedly ride our service after school, their parent can log into the app and have a single-ride ticket texted to their son or daughter. For more information on Token Transit, visit www.TokenTransit.com.