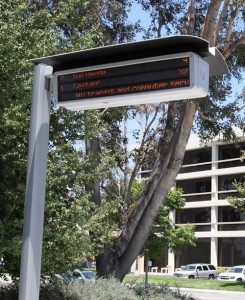 Have you ever wondered what time will the next bus be here? Thanks to the City's Transit Information Network, riders can receive up-to-the-minute information on the current location of a bus via the web, cell phone or one of 30 arrival display signs installed at key areas throughout Santa Clarita.
To view this information on a Bus Finder, simply press the button on the blue display unit that directly corresponds with the route and receive real-time scheduled and arrival times specific to that stop.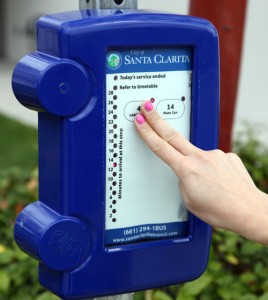 Smart phone users can receive the same information by scanning the QR Code located at each bus stop or visiting the mobile website, m.santa-clarita.com. Simply enter the five-digit stop ID number found at each bus stop and let the interactive system do the rest. A Bus Finder Map is also available online for passengers looking to identify a route's arrival times prior to boarding the bus.