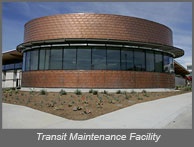 •  Recognized as the "Best in the Transit Industry" by the American Public Transit Authority (APTA) in 2002.
•  Transit Maintenance Facility honored by the Los Angeles Business Council (LABC) with a 2008 "Architectural Award of Excellence" for outstanding architecture in civic sustainability.
•  Transit Maintenance Facility received the 2007 "Excellence in Transportation" award by the California Department of Transportation (Caltrans).
•  Transit Maintenance Facility, awarded a "Gold" rating from the Leadership in Energy and Environmental Design (LEED) Green Building Rating System in 2006.
•  The LEED certified Transit Maintenance Facility and other sustainable efforts by the City of Santa Clarita were honored in 2015 by Senator Fran Pavley and presented a Sustainability Award for its extensive green efforts including sustainable building practices.
•  Total Ridership FY 2014-2015:  3,314,511
•  Average Monthly Ridership FY 2014-2015:  276,209
•  Average Weekly Ridership FY 2014-2015: 69,052
•  Number of Routes: 9 local fixed, 7 commuter express, 2 station links, 1 summer special, 20 supplemental school routes
•  Number of Vehicles: 56 local, 28 commuter, 1 trolley, 21 Dial-A-Ride, 8 ASI
•  Approximate number of miles traveled in one year: 2,894,317