NoHo Express Route 757
With more frequent Transit service, the NoHo Express takes you just about anywhere you want to go with connection opportunities to neighboring cities available seven days a week.
---
Santa Clarita Transit Route 757 (Bus) Express route from Santa Clarita to North Hollywood Station
Operates approximately every hour or less, (Weekdays) from 5:10a.m. to 9:46p.m. (Weekends) 6:10a.m. to 9:36p.m.
---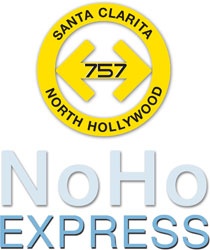 Metro Red Line (Rail) Universal City, Hollywood, Union Station, Downtown LA
Operates approximately every 5 minutes, from 4:31 a.m. to 1:23 a.m..
Burbank Bus (Bus) Pasadena, Hollywood, Los Angeles
Operates approximately every 20 minutes in the morning from 6:00 a.m. to 10:30 a.m. M-F and
2:40 p.m. to 8:00 p.m. M-F in the afternoon.
LADOT Commuter Express 549  (Bus) Pasadena, Glendale, Burbank, Encino, Sherman Oaks
Operates approximately from 6:15 a.m to 8:30 a.m. and 4:00 p.m. to 7:00 p.m. M-F.
Metro Orange Line (High-Capacity Busway)
Encino, Lake Balboa, Reseda, Tarzana, Valley Village,Van Nuys, Warner Center, Woodland Hills, Valley College, & Pierce College
Operates approximately every 4 to 10 minutes, from 3:44 a.m. to 1:32 a.m.

---
Commuter Express Fare –
NoHo Express

Commuter Express Routes 757
Full Cash
$3.00
Reduced Cash
$1.50
Children under 5
FREE
Interagency Transfer
$0.55
Monthly Pass (TAP Only)
EZ Zone 3 Full
$176.00
EZ Zone 3 Reduced
$70.50
SCT only to NoHo Full Fare (Available on TAP only)
$110.00
SCT only to NoHo Reduced Fare (Available on TAP only)
$55.00