City of Santa Clarita Transit is a public transportation service dedicated to meeting the needs of the general public. In an effort to serve the entire community, City of Santa Clarita Transit provides additional service trips during peak student travel times. Seating availability is on a first-come, first-serve basis.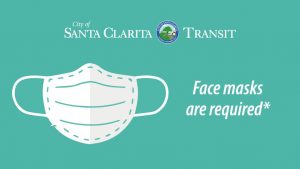 *Please note, all school trippers are open to the general public and are subject to the same COVID measures that regular local fixed-route service observes. This includes Federal Security Directive 1582/84-21-01 that mandates face masks must be worn at all times.
Additionally, in an effort to ensure social distancing, all buses will operate at a reduced capacity. Where possible Santa Clarita Transit has added service to account for capacity constraints. Additionally, the William S. Hart District is offering its own supplemental service in an effort to ensure transportation is available to those who need it.
Supplemental School Day Schedules
Effective August 10, 2021

 Arroyo Seco Jr. High –
Routes 3, 620, 621, 637, 638, 640, 643

 Canyon High –
Routes 5, 6, 12, 632

Castaic High –
Route 623

 Golden Valley High –
Routes 628, 629, 630

 Hart High –
Routes 4, 5, 6, 12, 641

La Mesa Jr. High – 
Routes 626, 627, 644

Placerita Jr. High – 
Routes 4, 5, 6, 12, 14, 641

Rancho Pico Jr. High – 
Route 634, 636

Rio Norte Jr. High – 
Route 622

Saugus High – 
Routes 620, 621, 633, 637, 638, 640

Sierra Vista Jr. High – 
Routes 5, 6, 12, 632

Valencia High – 
Routes 624, 636

 West Ranch High – Routes 634, 636